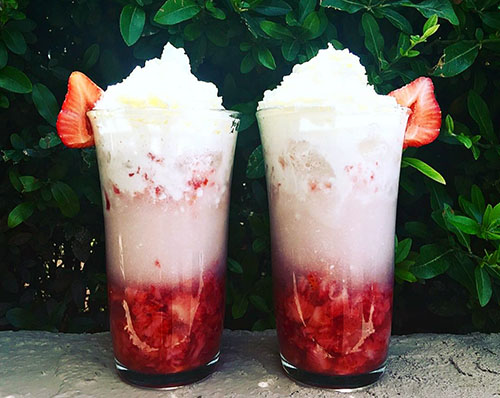 Fresh Fruit on the Bottom Strawberry Coconut Italian Cream Soda
photo by recipe author
Servings: 2
Preparation Time: 5-10 minutes
8 tablespoons fresh strawberries, (approximately 10 strawberries)
2 tablespoons honey
1 cup sparkling water
6 tablespoons fresh coconut milk*
whipped cream and sliced strawberry, topping
Remove stems from about 10 strawberries, rinse and then mash, using a fork, until the pieces are very small. Alternately you could use a food processor. Add the honey to the fresh mashed berries and mix well.
In 12-18 ounce glasses, add ice halfway in each and then spoon half of the strawberry juice/fruit into each glass.
Next, pour 1/2 a cup of sparkling water into each glass.
Now, add 3 tablespoons of fresh coconut milk to each glass and top with whipped cream and garnish with sliced strawberries.
You can sip through each layer of the drink or stir before enjoying. Serve with a straw and a long spoon, to enjoy the fresh fruit on the bottom.
Fresh Homemade Coconut Milk:
*For the freshest coconut milk make homemade coconut milk. (See video at this link.)
Recipe and photo by Orissa. Submit your recipes and photos here for a chance to win $50!
Published on May 13, 2017