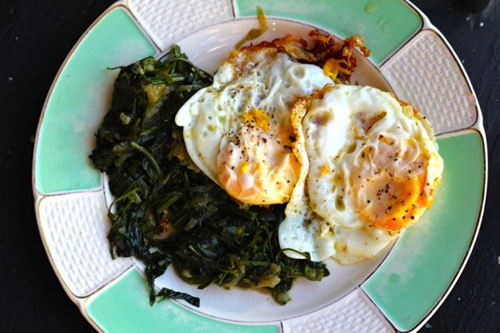 Fried Eggs with Wild Greens and Onions
photo by recipe author
Servings: 6
Preparation Time: 35 minutes
¾ cup virgin coconut oil
10 green onions, minced
2 pounds mixed greens: such as nettles, lamb's-quarter, spinach, swiss chard, kale, etc., washed and sliced
1 cup chopped parsley
1 cup chopped fresh mint leaves
6 cloves garlic, smashed and minced
1/2 cup water
sea salt and freshly ground black pepper, to taste
Heat ½ cup virgin coconut oil in a 5-qt. pot over medium heat. Add onions and cook for 10 minutes. Add greens, parsley, mint, garlic, and ½ cup water; season with salt and pepper. Cook gently, stirring occasionally, until greens are tender, 15–20 minutes. Remove from heat.
Heat ¼ cup coconut oil in an 12″ skillet over medium-high heat. Add more coconut oil if necessary.
Working in two batches, crack eggs into skillet – constantly spooning oil over yolks, until yolks are just set, about 2 minutes.
Using a slotted spoon, transfer eggs to a plate.
Divide greens between serving plates and top each with a fried egg. Grind more fresh pepper and salt on top.
Serve with slices of toasted bread.
Amy from Milford, NE won $50 for this recipe and photo! Submit your coconut recipes and photos here!
Published on October 10, 2015