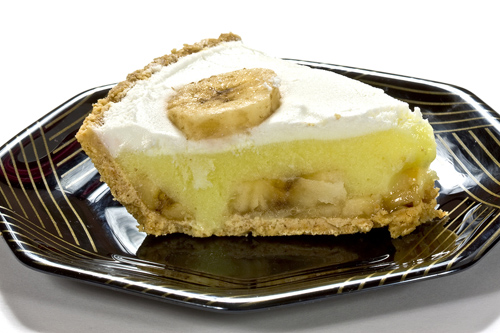 stock photo
Peel, slice and freeze about 10 large bananas which have brown spots on the peel yet are firm 24 hours ahead of making pie.
Preheat oven to 375 degrees.
CRUST: Simmer on stove butter and coconut oil together until melted. Set aside to cool.
Using blender or other kitchen gadget crumb graham crackers, or especially if children helping place crackers in brown paper or plastic bag and use rolling pin to crumble. Depending on how thick you like your crust more crackers may be added, but more butter may then be needed also. I use a medium spring form pan.
Mix the butter/oil mixture with the coconut flour, graham crackers and maple syrup to a consistence for pressing in place on bottom and sides of pie/spring form pan. Pinch into edge and where necessary, but be sure mixture is not to wet or too dry. Bake for about 8 minutes in preheated oven. Set aside to cool.
Place shredded coconut in a medium sized saucepan over medium to medium low heat and stir constantly until golden brown. Remove from heat immediately and set aside.
Beat the heavy cream until stiff peaks form and do NOT add sweetener. Set aside.
Just about 10 minutes BEFORE READY TO SERVE slice remaining fresh bananas (NOT frozen) and place on bottom and sides of baked crust.
Using a food processor, blender, or other kitchen aide process the frozen bananas to a soft serve texture. Spoon the mixture on top of the fresh bananas and fill to about 1/2 inch of top of spring form pan. Now spoon the whipped cream over the frozen banana surface. Using a tablespoon make dips and peaks into your whipped cream. Sprinkle the toasted coconut flakes and the sliced almonds on top. Serve immediately.
Leftovers are not near as yummy. So if your family is small either use smaller portions or invite company. OK to freeze leftovers, but I suggest that you cut it all in portion sizes before freezing. ENJOY!
Recipe submitted by Terri, Pahrump, NV
Published on September 17, 2008