This is the thing to make when all you want is a little sweet treat with chocolate that won't take much effort to make. All you do is melt, dip, freeze, wait impatiently, poke bananas to see if they're fully frozen yet, lick the melted chocolate off your fingers, wait some more, poke again, wait, forget about it, come back and enjoy an amazing little bite bursting flavor.
The chocolate freezes over like a chocolate ice cream shell. The coconut provides little more then something to make it prettier (unless you really load it on) and the banana freezes and becomes like a little bite of ice cream.
It's a perfect summer treat. Not to mention fairly versatile. Try it with different nut butters (coconut cream concentrate might work really well here!), different dried coconut cuts, chopped nuts and different chocolates. It's all good.
Enjoy!
Sarah:)
Frozen Chocolate Coconut Banana Bites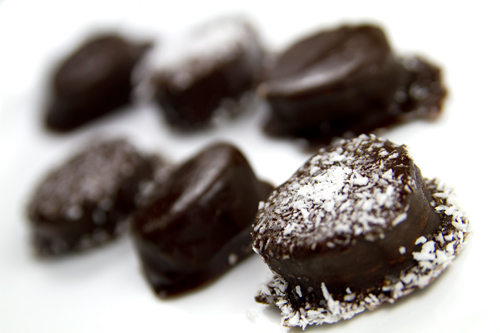 Frozen Chocolate Coconut Banana Bites
Prepared by Sarah Shilhavy, Photo by Jeremiah Shilhavy
Serving: 4
Preparation Time: 10 minutes
Melt chocolate over very low heat or double boiler with coconut peanut butter, brown rice syrup and vanilla until melted and smooth. Pour into a bowl and stir a few times to cool.
Dip banana slices into chocolate. Spoon a little extra over the top if desired. Sprinkle with coconut.
Freeze until fully frozen and enjoy!
Recipe courtesy Sarah Shilhavy
Published on June 20, 2011