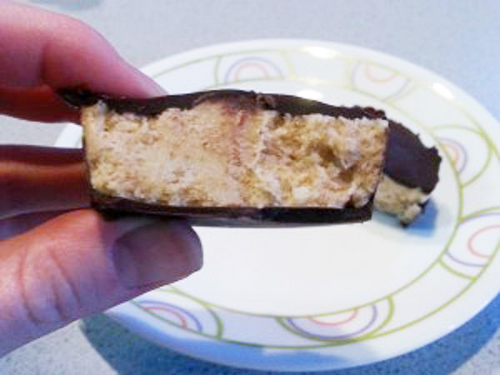 Frozen PB and Banana Cups
photo by recipe author
Servings: 4
Preparation Time: 40 minutes
In a blender, blend banana and peanut butter until smooth. In a small glass bowl, break chocolate bar into small pieces (or add chocolate chips) and add coconut oil. Melt chocolate slowly on low heat using a double boiler. Stir until chocolate and oil are combined.
Pour about 1 teaspoon melted chocolate into each muffin mold. Carefully swirl chocolate up the sides of the mold. Place molds in freezer for about 10 minutes. Remove from freezer and gently spoon banana mixture into each mold. Top with remaining chocolate and return to freezer for about 20 minutes.
Carefully pop out the chocolate cups from the molds* and serve.
*Silicone molds work best for these.
Courtney from Columbus, KS won $50 for this recipe and photo! Submit yours here!
Published on July 20, 2015