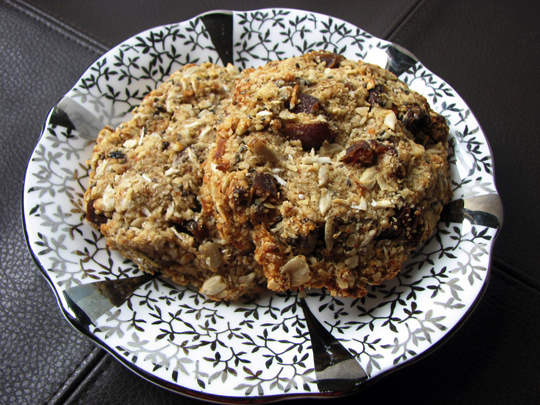 Fruit and Nut Breakfast Cookies Recipe
photo by recipe author
Servings: 8
Preparation Time: 20 minutes
3/4 cup quick cooking oats
3/4 cup oat bran
1/2 cup unsweetened coconut flakes
1 tablespoon chia seeds
1/2 teaspoon cinnamon
1/4 teaspoon salt
1/4 cup walnuts, chopped
1/4 cup sunflower seeds
1/4 cup golden raisins
1/4 cup pitted dates, chopped
1/4 cup unsweetened dried cherries, chopped
2 very ripe bananas, mashed
1/4 cup coconut oil, melted
1 tablespoon honey
1 teaspoon vanilla paste (pure vanilla extract will work as well)
Preheat oven to 350 degrees ºF.
Line a large baking sheet with parchment paper or grease with coconut oil.
In a large bowl, combine all the dried ingredients (oats through salt). Add dried fruit and nuts being sure to stir well so the fruit doesn't clump together.
Add the mashed banana, coconut oil, honey and vanilla to the bowl and stir well to combine. Use your hands to form eight cookies.
Bake for approximately 20 minutes, or until the edges begin to brown slightly. Allow to cool on the cookie sheet.
These cookies freeze very well. Just thaw in the refrigerator overnight.
Recipe submitted by Alethea, Groveland, MA
Published on May 10, 2013