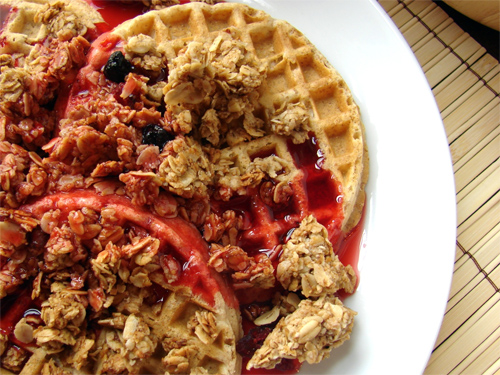 Fruited Granola with Syrup
photo by recipe author
Servings: 6
Preparation Time: 10 minutes
Fruited Granola:
2 cups rolled oats (old fashion oats)
2 cups quick oats*
1/2 cup wheat germ (optional)
1 teaspoon cinnamon
1/2 cup coconut oil
1/2 cup brown sugar
3 tablespoons juice (apple, pomegranate, cranberry, grape, etc)
2 teaspoons vanilla
1/2 cup honey
1 cup dried fruit (blueberries, raisins, cherries, etc.)
Fruited Syrup:
Fruited Granola:
1. Preheat oven to 250. Combine oats, wheat germ, and cinnamon in a large bowl.
2. Measure out 1/2 cup of solid coconut oil. Using your hands scoop small batches out of the cup and press it together with your palms over the granola bowl so it drips into the bowl.
3. In a separate bowl combine brown sugar, juice, vanilla, and honey. You can heat this mixture if desired before pouring it over the granola.
4. Spread granola out over 2 large, rimmed, greased baking sheets. Use your hands to form clumps of granola if you like it chunky.
5. Bake at 250 for 20 minutes.
6. Stir. Bake for an additional 20 minutes. When cooled, add dried fruit.
Fruited Syrup:
1. Combine all ingredients. Mix well.
*Use all rolled oats if desired.
Recipe submitted by Katrina, Canal Fulton, OH
Published on June 3, 2011