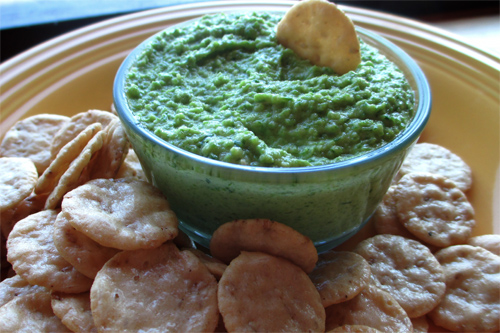 Garden Pea and Chive Cashew Coconut Pesto
photo by recipe author
Servings: makes approximately 10 oz.
Preparation Time: 10 minutes
1/4 pound snap or snow peas in shell
1/2 cup raw cashew pieces
1 ounce parmesan cheese cut in chunks
1 small bunch of chives
1 tablespoon
coconut oil
1 1/2 tablespoons
olive oil

1/8 teaspoon salt
Bring 1 cup of salted water to boil in a small saucepan. Add peas. Bring back to boil and turn off heat. Let them sit in the hot water for a few minutes before draining.
Add the cashews and parmesan to a food processor and process until coarsely ground. With a scissors, cut the chives into 1 inch pieces into the processing bowl. Now add the peas, coconut oil, olive oil and salt. Process until smooth, scraping down sides of bowl as needed.
Karen from Quincy, CA just won $50 for this recipe and photo!
Submit yours
here.
Published on July 7, 2014