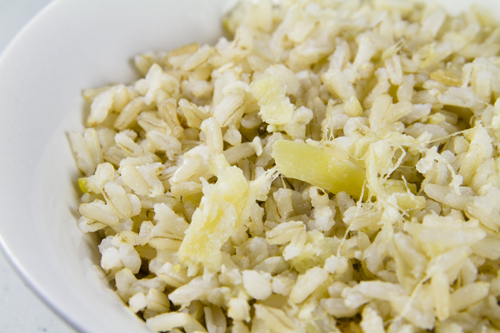 Garlic Ginger Coconut Rice
Prepared by Sarah Shilhavy, Photo by Jeremiah Shilhavy
Servings: 8 to 10 side dish servings
Preparation Time: 25-30 minutes
2 tablespoons coconut oil
4 cloves garlic, crushed
1 tablespoon grated fresh ginger
2 cups soft or brown Jasmine Rice, rinsed
3/4 cup coconut milk*
2 1/2 cups water (adjust as needed)
Salt to taste
Sauté garlic and ginger in oil briefly. Add rice, stir well. Add coconut milk, water and salt.
Bring to a boil, stir quickly, reduce heat and simmer covered for 15 minutes. Remove from heat and let sit covered for 5 minutes or more.
Note: Very good with chicken breast added to it while simmering. Makes great leftovers. Yum!
* For the freshest coconut milk make homemade coconut milk. (See video at this link.)
Recipe submitted by RuthAnn, Key Largo, FL
Published on July 1, 2011