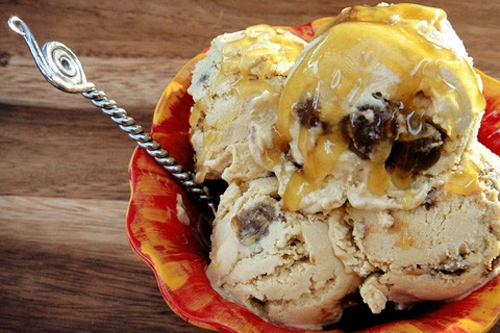 Ginger Peach Ice Cream with Chocolate Fudge Nuggets Recipe
photo by recipe author
Servings: 4
Preparation Time: 15 minutes
Be sure to soak your cashews. This will soften them, which in return will help them blend nice and creamy. After soaking, drain and rinse well.
Put all ingredients into the blender and blend for 3-5 minutes. Process till nice and creamy.
If you have an ice cream maker, after the mixture is blended, chill for about 1 hour in the freezer and then pour into your ice cream maker and follow the manufacturer's instructions.
If you don't have an ice cream maker, pour into a container and place in the freezer. Be sure to stir it a few times an hour until frozen.
You can also pour it into ice-cube trays and freeze. For serving just pop the ice cubes out and using your blender, blend until it is a soft serve ice cream.
It is best to take the ice cream out of the freezer for about 10 minutes ahead of time so it can have a chance to soften. Did you know that softer ice cream has more flavor than hard, frozen ice cream? Test it for yourself.
Recipe submitted by Amie Sue, Hood River, OR
Published on July 20, 2012