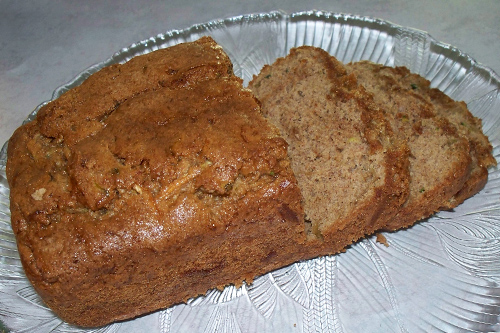 Gluten and Dairy Free Zucchini Bread Recipe
photo by recipe author
Servings: 10
Preparation Time: 15 minutes
1 rounded cup fresh, grated zucchini
3/4 cup sorghum flour
1/4 cup coconut flour
1/2 cup tapioca flour
1/2 teaspoon baking soda
2 teaspoons baking powder
3/4 teaspoon xanthan gum
1/2 teaspoon fine salt
2 teaspoons cinnamon
1 cup organic whole sugar
1/3 cup coconut oil – melted
2 egg whites, beaten (or 1/4 cup liquid egg replacer)
1/4 cup coconut milk*
1 teaspoon fresh lemon or orange juice
1 tablespoon vanilla
Preheat oven to 350 degrees F. Line the bottom of a 9-inch loaf pan with a piece of parchment paper. Oil it lightly.
Press the grated zucchini with a paper towel to remove as much moisture as you can (important). After pressing, fluff with a fork. Set aside.
In a large mixing bowl, whisk together the flours, baking powder, baking soda, xanthan gum, salt and cinnamon. Add in the sugar.
Add remaining ingredients – except zucchini and beat to combine. Continue to beat on medium high until the batter is smooth, about two minutes.
Add in shredded zucchini and stir by hand to combine.
Place in the prepared loaf pan and even out the top.
Bake in the center of oven for 55-60 minutes, until the top is golden and firm, yet gives a bit when lightly touched. Test with a toothpick, which should come out without batter or crumbs.
* For the freshest coconut milk make homemade coconut milk. (See video at this link.)
Recipe submitted by Sharla, Nampa, ID
Published on September 13, 2012