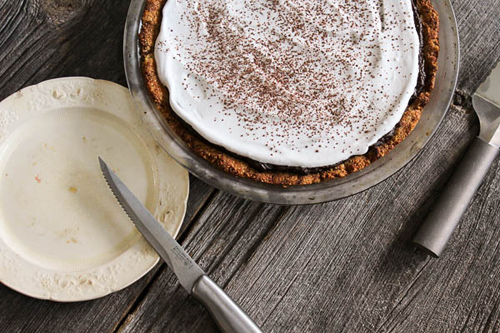 Gluten & Dairy Free Chocolate and Vanilla Pie
photo by recipe author
Servings: 8-10
Preparation Time: 20-25 minutes
Gluten Free Crust:
1 3/4 cups almond flour*
1/4 cup arrowroot starch
1/2 teaspoon sea salt
2 tablespoons honey
1/3 cup palm shortening
2 tablespoons coconut milk**
Dairy Free Chocolate Filling:
4 avocados, peeled, pitted and pureed
1/2 cup almond butter
1 teaspoon vanilla extract
2 tablespoons palm shortening
1/2 cup whole sugar
1/3 cup cocoa powder
Dairy Free Vanilla Filling:
1 cup cashews, soaked overnight
2 teaspoons vanilla extract
1/4 cup coconut oil, melted
2 bananas
In a mixing bowl, combine ingredients for crust and blend until crumbly. Press into a 9″ pie plate and pierce a few times with a fork. Bake at 350° F for about 8-10 minutes or until lightly brown.
In a small saucepan, combine ingredients for chocolate filling over low heat. Stir until smooth and cook for about 5 minutes to warm pudding. Remove from heat.
In a blender, combine ingredients for vanilla filling and blend for at least 2 minutes on high or until completely smooth.
Pour chocolate filling over cooled crust and spread flat. Pour vanilla filling over chocolate filling and spread flat. Let pie chill for at least 4 hours or overnight to set.
Garnish with coconut whipped cream and whole sugar, if desired.
*You can grind your own almond flour by placing whole almonds in a blender/food processor and blending until you get a fine meal.
**For the freshest coconut milk make homemade coconut milk. (See video at this link.)
Courtney from Weir, KS won $50 for this recipe and photo! Submit your coconut recipes and photos here!
Published on January 5, 2016