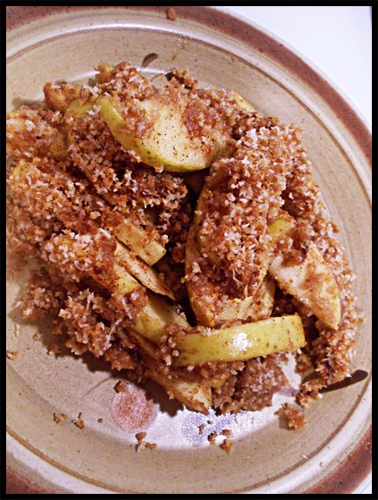 Gluten Free Apple Crisp
photo by recipe author
Servings: 6-8
Preparation Time: 15 minutes
Filling:
Topping:
Preheat oven to 350 degrees F.
Mix all filling ingredients together in a bowl and pour into greased 9×9 baking dish.
Mix dry topping ingredients together and then drop in cubes of oil or butter and mash together with your fingers until crumbly. Sprinkle on top of filling
Bake at in preheated oven for 20 minutes.
* I would like to note that it's not really important that the measurements be exact. I never measure when I make this and it turns out fine each time so feel free to adjust to your tastes.
Recipe submitted by Mary, Deer River, MN
Published on March 16, 2011