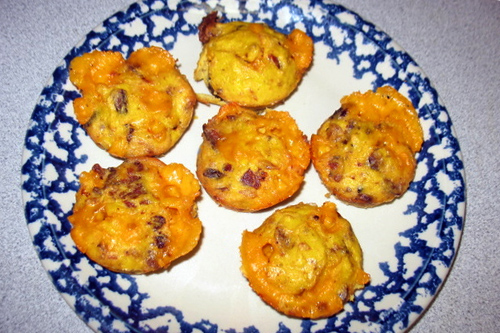 Gluten Free Bacon, Egg, and Cheese Muffins
photo by recipe author
Servings: 6
Preparation Time: 20 minutes
6 strips bacon
3 eggs
1/4 teaspoon salt
3 tablespoons coconut flour
1/4 teaspoons baking powder
4 ounces cheddar cheese, shredded/diced
Coconut oil (for greasing muffin tin)
1. Preheat oven to 400 degrees.
2. Fry bacon in a skillet until crispy. Set aside.
3. Blend eggs, 2 tablespoons of bacon drippings, and salt in a mixing bowl.
4. Add coconut flour and baking powder. Mix until there are no lumps.
5. Crumble bacon and add to batter along with cheese. Mix until incorporated.
6. Grease your muffin tin with coconut oil or use paper inserts.
7. Pour batter into muffin tin and bake for 15 minutes.
Can be modified for those who don't eat dairy by omitting the cheese and adding another 1-2 eggs.
Recipe submitted by Andy, North Royalton, OH
Published on September 21, 2011