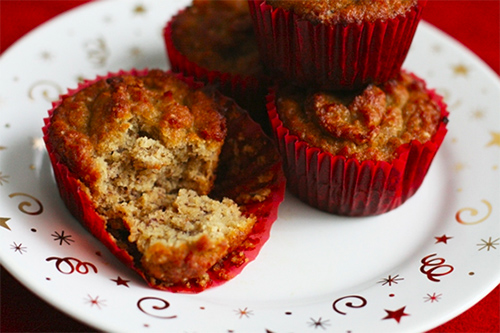 Gluten Free Banana Muffins Recipe
photo by recipe author
Servings: 10
Preparation Time: 10 minutes
Preheat the oven to 350 degrees.
Combine the first 5 ingredients until well blended. Stir in the remaining 4 ingredients until smooth. Prepare paper muffin liners, or use coconut oil to grease approximately 10 muffin holes. Divide batter evenly among the ten muffin liners. They should be about half full. You may fill 11 or 12 if the bananas are extra large.
Bake at 350 degrees for about 23-25 minutes or until the tops are golden brown.
*Use less natural sweetener if you are using 3 black bananas. The sweetener can probably be omitted completely if you are trying to avoid all sweeteners.
Recipe submitted by Melodie, Fort Mill, SC
Published on February 12, 2013