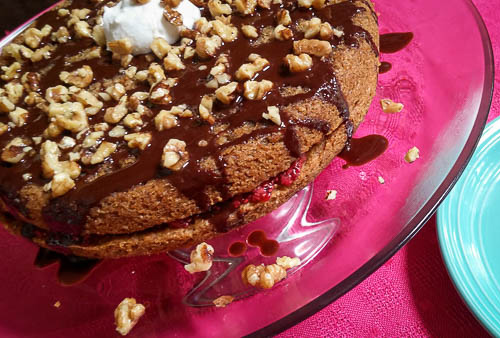 Gluten Free Banana Split Cake
photo by recipe author
Servings: 10-12
Preparation Time: 1 hour
Cake:
1/2 cup palm shortening or butter
1/2 cup whole cane sugar
1/4 cup raw honey
2 teaspoons vanilla
3 eggs
1 1/4 cups almond flour*
3/4 cup cassava flour
1/2 cup tapioca starch
4 teaspoons baking powder
1 teaspoon baking soda
1/2 teaspoon sea salt
3/4 cup coconut milk**
1 large banana, slightly mashed
1/2 cup diced cherries
1/2 cup walnuts, chopped
Filling:
Sauce: 
In a mixing bowl, cream together shortening or butter, sugar and honey until smooth. Add in vanilla and eggs, beat for an additional 2 minutes until light and fluffy. Add in almond flour, cassava flour, tapioca starch, baking powder, baking soda and salt. Mix until just combined. Add in milk, then fold in bananas, cherries and chopped walnuts until combined.
Pour into two greased cake pans. Bake at 350 °F for about 30-35 minutes or until cooked through and slightly brown.
Remove from oven and let cool on wire racks for about 15 minutes.
Place one cake on a serving dish. Spread a thin layer of preserves over cake. Top with remaining cake layer.
In a small bowl, combine melted coconut oil, honey and cacao powder and stir until smooth. Drizzle chocolate sauce over cake. Top with whipped coconut cream and walnut pieces if desired.
*You can grind your own almond flour by placing whole almonds in a blender/food processor and blending until you get a fine meal.
**For the freshest coconut milk make homemade coconut milk. (See video at this link.)
Courtney from Columbus, KS won $50 for this recipe and photo! Submit yours here!
Published on May 21, 2015