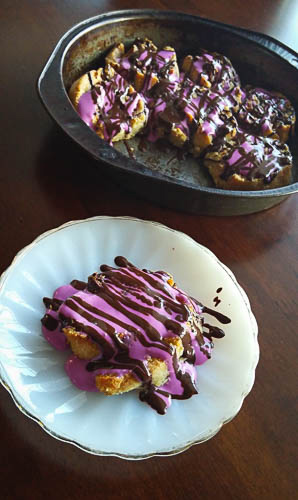 Gluten Free Berry Sweet Rolls
photo by recipe author
Servings: 15
Preparation Time:  45 minutes
Rolls:
Filling:
Berry Glaze:
Chocolate Drizzle:
Preheat oven to 375 degrees F.
In a mixing bowl, combine almond flour, coconut flour, arrowroot starch, baking powder, baking soda and salt. Add in shortening or coconut oil and mix until dough becomes crumbly. Pour in vinegar, milk and vanilla. Stir until combined and dough ball starts to form. Place a large piece of wax paper on counter and dust lightly with almond flour or arrowroot starch. Place dough onto wax paper and sprinkle additional arrowroot powder or flour on top.
Using a rolling pin, carefully roll out dough into a large 1/4″ rectangle. In a small bowl, stir together honey and coconut oil for filling. Spread oil mixture evenly over dough and sprinkle with cinnamon. Carefully roll up dough into a log – you can use the wax paper to help if dough is very fragile. Quickly slice dough into about 1″ rolls and place in a greased baking pan. Bake for about 25-30 minutes or until rolls are starting to brown. Remove from oven and let cool about 15 minutes.
Meanwhile, combine berry glaze ingredients in a small blender and blend until very smooth. Add more beet juice for a darker color. In a small bowl, combine chocolate drizzle ingredients and stir until smooth. Pour berry glaze over cooled rolls and top with chocolate drizzle. Store any leftovers in a sealed container.
Courtney from Columbus, KS just won $50 for this recipe and photo! Submit yours here.
Published on February 9, 2015