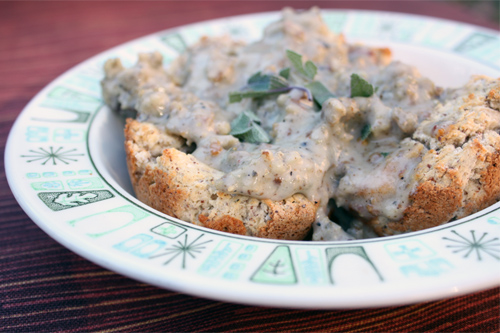 Gluten Free Biscuits and Gravy
photo by recipe author
Servings: 3-4
Biscuits:
Sausage Gravy:
Biscuits:
1. Preheat oven to 400 degrees F. Grease up 6 cups of a muffin tin with coconut oil.
2. Put coconut flour, almond flour, salt and baking powder in the bowl of a food processor. Add the butter and pulse until the butter is incorporated. The butter pieces should be about the size of peas.
3. In a blender (or by hand if you're feeling energetic), whiz the egg whites until they are frothy. Add them to the food processor and pulse a couple times until they're incorporated. Don't go crazy though, just pulse it a few times until just blended.
4. Distribute the batter evenly into the 6 cups of your muffin tin. It should fill them about 3/4 full. These biscuits don't rise, so that's okay. Bake for 15 minutes until the tops are browned.
5. Pour your gravy on top, and enjoy.
Sausage Gravy:
1. Heat up a skillet over medium-high heat and brown the sausage. Break up the sausage into fairly small pieces so it will cook easily, but I like to leave some bigger chunks in there too. Once the sausage is thoroughly cooked, remove it with a slotted spoon and set it aside. Discard most of the fat, but leave about a tablespoon in there, and leave all the stuck-on brown bits of sausage in the bottom of the pan.
2. Turn the heat down to medium. Add the arrowroot and stir it into the fat and brown bits, whisking constantly for about a minute so it doesn't burn. It will get pretty thick and almost dry.
3. Add the coconut milk about 1/3 at a time, and whisk together with the "roux," incorporating it thoroughly. Some of the browned bits should start to come off the bottom of the pan, too. This is what we want. Keep adding in the coconut milk until it is all incorporated. Add the fennel, sage, cayenne, salt and pepper and mix it in.
4. Add the sausage back in and incorporate throughout the gravy. Cook for a moment so everything is heated evenly. Serve immediately over biscuits.
Recipe submitted by Amber, Norfolk, VA
* For the freshest coconut milk make homemade coconut milk. (See video at this link.)
Published on January 14, 2011