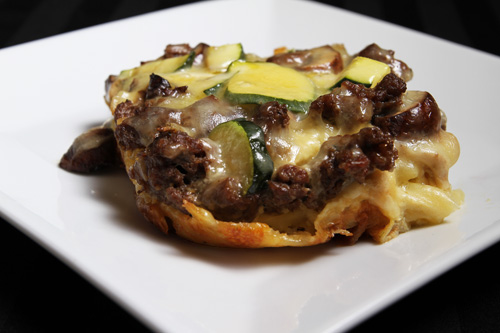 Gluten Free Bison Sausage Casserole
Prepared by Marianita Shilhavy, Photo by Jeremiah Shilhavy
1 tablespoon coconut oil, as needed
1 medium size yellow onion- chopped
1 lb. ground grass-fed bison sausage
8 oz. mushroom, sliced
2 medium size zucchini (or other vegetable of choice) – chopped
1 lb. potatoes, shredded ("hash brown" type)
6 large eggs
1 cup milk
8 oz. mozzarella cheese- shredded
Pre-heat oven at 400 degrees.
Heat coconut oil in a large pan and sauté onion until opaque.
Crumble the bison sausage into the pan and sauté until brown. Add mushrooms and zucchini, sauté for 2 minutes. Set aside.
Beat eggs, milk, salt and pepper together.
Grease baking dish with additional coconut oil. Layer shredded potato and sautéed sausage mixture. Pour the egg and milk mixture on top. Bake for 35 minutes.
After baking sprinkle the mozzarella cheese on top. Bake for 5 more minutes or until the cheese has melted.
Serve with your favorite green salad.
Enjoy.
Recipe courtesy Marianita Jader Shilhavy
Published on February 3, 2010