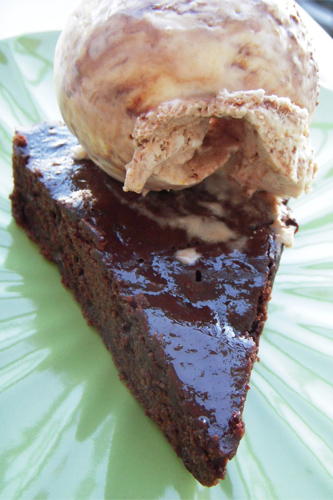 Gluten Free Black Bean Brownies
Photo by recipe author
Servings: 8
Preparation Time: 10 min.
1. Preheat the oven to 350 degrees F. Grease a 8 X 8-inch baking pan with extra coconut oil and set aside.
2. Place the black beans in the bowl of a food processor; process until smooth and creamy. Add the eggs, oil, sugar, cocoa powder, vanilla extract, coffee (optional), baking powder, and salt and process until smooth. Add the chocolate chips and pulse a few times until the chips are broken up a bit.
3. Pour the batter into the prepared baking dish.
4. Bake 30 to 35 minutes, or until the edges start to pull away from the sides and a toothpick inserted in the center comes out clean. Cool in the pan before slicing. They taste even better after sitting in the fridge over night!
Recipe submitted by Mysti, Dallas, TX
Published on May 17, 2010