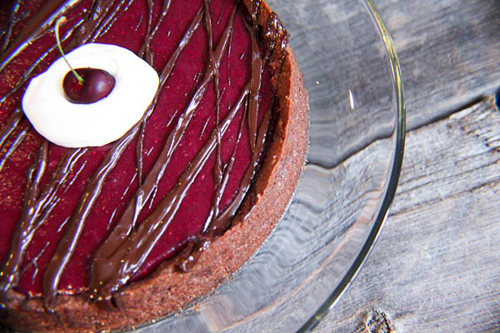 Gluten Free Black Forest Tart
photo by recipe author
Servings: 10-12
Preparation Time: 60 minutes
Crust:
Filling:
1 cup rhubarb, diced
2 cups cherries, pitted
1 cup blueberries
1/4 cup water
2 tablespoons raw honey
2 tablespoons arrowroot starch
3 tablespoons chia seeds
Topping:
In a mixing bowl, combine almond meal, arrowroot starch, coconut oil, honey, cocoa powder and sea salt. Mix until small crumbs form. Add water and mix until a ball of dough forms, adding more water if necessary (about 1 tablespoon at a time).
Place dough into a greased tart pan or a spring-form pan , spreading over the bottom and up the sides of the pan. Bake at 350 °F for about 25-30 minutes or until cooked through and slightly crisp. Let cool completely.
Meanwhile, in a medium saucepan, combine rhubarb, cherries, blueberries, water and honey. Bring to a boil, then cover and reduce heat to low-medium. Simmer for about 10 minutes or until fruit is cooked.
Using an immersion blender, puree fruit mixture if desired – this is optional. Carefully sprinkle arrowroot starch over mixture and stir until blended. Stir in chia seeds until blended.
Let mixture cool for about 10 minutes to let filling set up slightly. Pour into the cooled tart crust and let set for about an hour, or 30 minutes in the refrigerator.
Drizzle melted chocolate over tart and top with coconut whipped cream if desired.
*You can grind your own almond flour by placing whole almonds in a blender/food processor and blending until you get a fine meal.
Courtney from Columbus, KS won $50 for this recipe and photo! Submit yours here!
Published on June 22, 2015