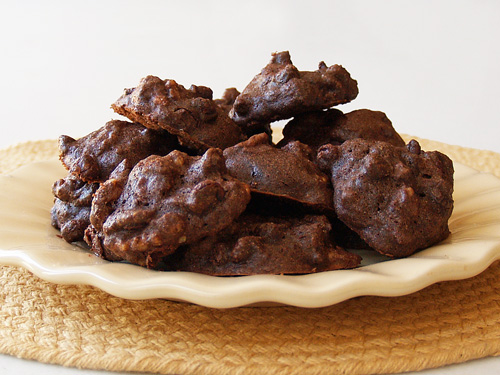 Gluten Free Black Walnut Chocolate Chip Cookies made with coconut flour
Prepared by Sarah Shilhavy, Photo by Jeremiah Shilhavy
Servings: 22 cookies
Preparation time: 10 minutes
Preheat oven to 350 F.
Over very low heat, melt butter and coconut oil, stirring until melted. Remove from heat and whisk in cocoa powder. Set aside.
In a mixing bowl blend eggs, sugar, vanilla and salt. Whisk in cocoa mixture. Sift in the coconut flour and whisk until there are no lumps. Stir in chocolate chips and nuts.
On a cookie sheet greased well with palm shortening, place tablespoon-sized mounds of the dough about an inch apart.
Bake in preheated oven for approximately 14-19 minutes.
Recipe submitted by Gail, Chicago, IL
Published on October 8, 2009