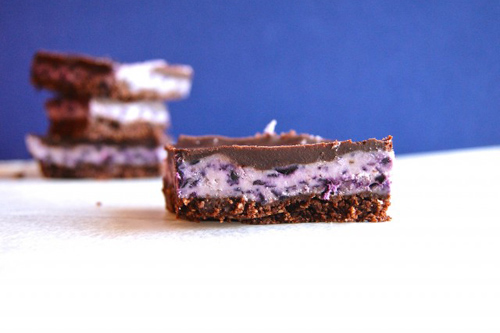 Gluten Free Blueberry Coconut Cream Bars
photo by recipe author
Servings: 16
Preparation Time: 15 minutes
Crust:
Filling:
Glaze:
Preheat the oven to 350 degrees. Oil the bottom and sides of an 8 x 8 inch baking pan.
In a small mixing bowl, stir together the almond flour, cocoa, and salt. Stir in the vanilla, coconut oil, and maple syrup. Use your hands to press the mixture evenly over the bottom of the oiled baking dish. Bake the crust for 15 minutes. Let it cool completely before spreading on the filling.
Place the blueberries, coconut cream concentrate, vanilla, and maple syrup in a food processor or blender. Blend until fairly smooth, with some pieces of blueberry still visible. Spread the filling over the cooled crust and refrigerate for at least 30 minutes before pouring on the glaze.
To make the chocolate glaze, stir together the coconut oil, cocoa powder, and maple syrup until smooth. Pour the glaze over the blueberry filling, tilting the pan to get it evenly over the top. Refrigerate the bars for at least two hours before cutting into squares to serve.
*You can grind your own almond flour by placing whole almonds in a blender/food processor and blending until you get a fine meal.
Angela from Longmont, CO won $50 for this recipe and photo! Submit yours here!
Published on July 1, 2015