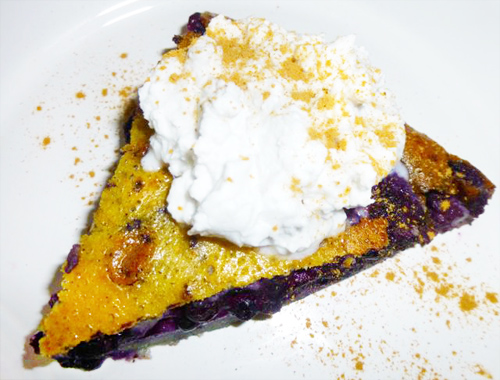 Gluten-Free Blueberry Coconut Flaugnarde
photo by recipe author
Servings: 6-8
Preparation Time: 10 minutes
Preheat oven to 350 ºF
Using coconut oil or butter, grease the bottom and sides of an 8 or 9 inch pie dish. Set aside.
Using a blender, whip the coconut milk, eggs, maple syrup, coconut flour, brown rice flour, vanilla extract, and sea salt till smooth and frothy. (Can also be whisked vigorously by hand.)
Pour roughly half an inch of batter into the greased dish and bake it in the oven until it is lightly set – just a few minutes. Take the baking dish out of the oven and add the blueberries in an even layer. Pour on the remaining batter.
Return the dish to the oven and bake for about 50 to 55 minutes, until slightly golden around the edges, and set in the center.
Serve at room temperature, with a dollop of coconut milk whipped cream and a sprinkling of cinnamon, if desired.
*For the freshest coconut milk make homemade coconut milk. (See video at this link.)
Sheri from Camby, Indiana won $50 for this recipe and photo! Submit yours here!
Published on May 29, 2015