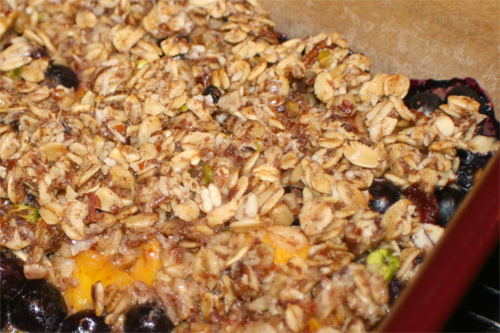 Gluten Free Blueberry-Peach Baked Oatmeal
photo by recipe author
Servings: 4-6
Preparation Time: 50 min. w/bake time
1 cup fresh or frozen blueberries
1-2 diced fresh or frozen peach (or other fruit of choice)
1 tablespoon honey
1 cup gluten free oats
3 tablespoons flax meal
1/2 cup chopped almonds (or other nut of choice)
1/4 cup unsweetened dried coconut
3 tablepoons sucanat or whole sugar
1 teaspoon cinnamon
1/4 cup coconut oil
1 cup coconut milk* (or other non-dairy milk)
Preheat oven to 350 degrees F.
Place fruit in 8×8 baking dish and drizzle with honey.
Mix oats, flax meal, almonds, coconut, sugar, cinnamon, coconut oil and 1/2 cup of coconut milk. Pour this mixture on top of the fruit and spread out evenly. Pour the remaining 1/2 cup coconut milk on top of oat mixture.
Place in preheated oven and bake for 30 minutes. This can also be made the night before and kept in the refrigerator. Place in oven to bake when you wake up. Delicious!!!
Recipe submitted by Kristin, Clarkesville, GA
* For the freshest coconut milk make homemade coconut milk. (See video at this link.)
Published on September 2, 2011