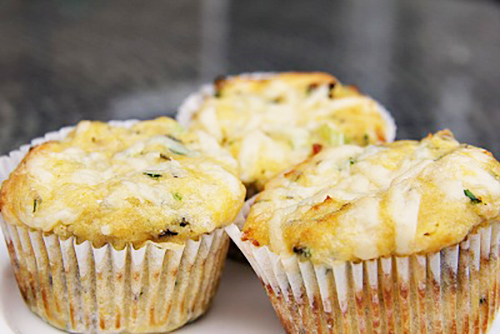 Gluten Free Cheese, Chive and Onion Muffins
photo by recipe author
Servings: 6 muffins
Preparation Time: 15 minutes
4 eggs
1/4 cup butter, melted
1/4 cup water
1/4 teaspoon salt
1/3 cup coconut flour
1/2 teaspoon baking soda
1/4 cup grated parmesan cheese
1/3 cup grated cheddar cheese
2 tablespoons fresh chives, chopped
3-4 spring onions, chopped
1/4 teaspoon white pepper
Preheat oven to 400° F.
Mix eggs, butter, water and salt and combine well. Add coconut flour and baking soda and blend until smooth with no lumps. Add the parmesan cheese, cheddar cheese, chives and spring onions and mix well. Add pepper to taste.
Line a muffin tin with muffin cups and spoon the mixture into them. Sprinkle on some grated cheese, if desired. Bake for 12-15 minutes until golden and toothpick comes out clean.
Angela from St. George, Barbados won $50 for this recipe and photo! Submit your coconut recipes and photos here!
Published on April 18, 2016