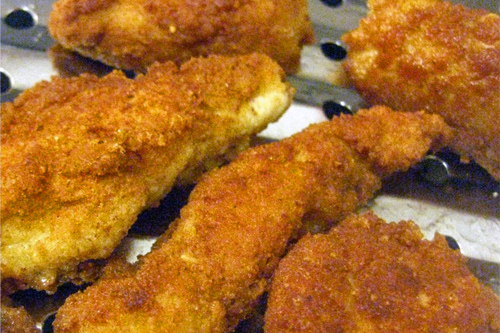 Gluten Free Chicken Fingers
photo by recipe author
Servings: 4
Preparation Time: easy prep 5 minutes
Pour 1-2 inches of coconut oil into skillet. Heat skillet to 350 degrees.
Pat chicken dry with paper towel.
Mix parmesan cheese, coconut flour, salt & pepper together in a medium bowl.
Dip chicken fingers into beaten egg whites. Then place them in the coconut flour mixture. Make sure to coat the chicken fingers well.
When the oil is heated to 375 degrees, add one chicken finger to oil to test. The chicken finger should fry for 4-6 minutes to completely cook. Adjust heat if needed and continue to fry the rest of the chicken fingers 3 to 4 at a time. Turn chicken fingers half way through cooking.
Place fried chicken fingers on a paper towel lined plate after frying. Keep warm in 200 degree oven until ready to serve.
Recipe submitted by Tiffany, Junction City, OR
Published on September 26, 2011