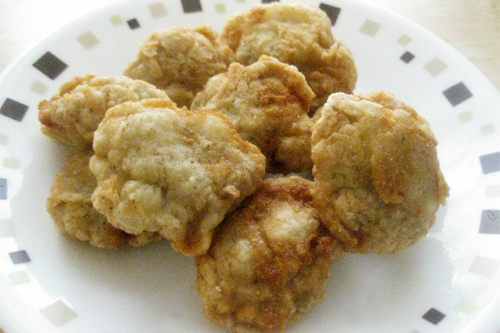 Gluten Free Chicken Nuggets
photo by recipe author
Servings: 35 Chicken Nuggets
Preparation Time: 20 minutes
Recipe: In a medium bowl, mix organic soy-free ground chicken, 1 teaspoon sea salt, 1/2 teaspoon organic parsley, 1/2 teaspoon organic onion powder and 1/4 teaspoon organic black pepper together. Set aside.
Heat coconut oil in a large skillet to medium heat.
Pour organic rice flour, 1/2 teaspoon of sea salt and a pinch of black pepper onto a plate. Mix well. Have beaten eggs ready in a small to medium size bowl.
Roll chicken mixture into 35 ping-pong ball size pieces. Roll each piece of chicken into rice flour, then dip into beaten eggs, then again in the flour. Flatten each ball into a nugget shape.
Fry nuggets in coconut oil until golden brown, about 4-5 minutes on each side. Place fried chicken nuggets on a paper towel lined plate. Serve hot with your favorite dipping sauce.
Recipe submitted by Tiffany, Bend OR
Published on March 16, 2012