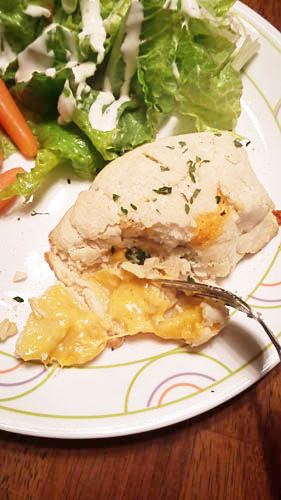 Gluten Free Chicken Spinach Bundles
photo by recipe author
Servings: 4
Preparation Time: 30 minutes
Crust:
1 cup gluten-free flour blend*
1/2 teaspoon baking powder
1/4 teaspoon salt
1/4 cup palm shortening
1/4 cup coconut milk**
Filling:
1 tablespoon coconut oil
1/2 teaspoon garlic, minced
2 cups spinach
1 cup chicken, cooked and shredded
1 teaspoon basil or Italian seasonings
1 cup cheese, shredded
In a mixing bowl, combine flour, baking powder and salt. Cut in palm shortening until mix is crumbly. Slowly add in milk until dough ball forms. Add more milk if dough is too dry – it should form together easily. Divide dough into four pieces. Roll each piece out into a thin rectangle.
Meanwhile, sauté spinach in coconut oil with garlic over medium heat until soft. Add in chicken and seasonings. Add 1/4 of the filling mixture into the middle of a dough circle. Top with 1/4 cup shredded cheese. Carefully fold crust around filling and seal edges (use water to help if necessary). Repeat with remaining dough and filling.
Bake on a greased baking sheet at 375° F for about 15 minutes.
*Gluten Free Flour Mix:
Makes 3 cups
Mix all ingredients together and use as directed.
**Homemade Coconut Milk
*For the freshest coconut milk homemade coconut milk. (See video at this link.)
Courtney from Weir, KS won $50 for this recipe and photo! Submit your coconut recipes and photos here!
Published on March 11, 2016