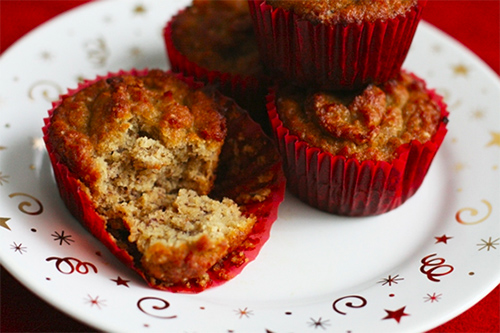 example photo shown
3/4 cup coconut flour
3/4 cup white rice flour
1/3 cup organic white sugar
1 1/2 teaspoons baking powder
1/4 teaspoon salt
1/4 cup butter, melted
1/4 cup coconut oil, melted
1 cup unsweetened almond or rice milk
2 large eggs
1 cup mashed ripe bananas (about 2 large)
1/2 cup dried coconut
3/4 cup semi-sweet chocolate chips
1/2 cup chopped walnuts or other preferred nuts
Preheat oven to 350 degrees. Line twelve regular muffin cups with muffin liners (optional) or grease with coconut oil. Or use jumbo muffin tins (makes 6).
Mix flours, sugar, baking powder and salt in a large bowl and set aside. Melt butter and coconut oil; add milk and eggs to melted oils and whisk together. Mix in mashed bananas.
Pour banana mixture into dry ingredients, and then add dried coconut, chocolate chips and walnuts. Stir just until blended (do not over mix). Divide batter among muffin cups.
Bake until tops are golden brown and tester inserted into center comes out with some melted chocolate attached and dry crumbs, about 20 for the regular sized muffins, and about 30 minutes for jumbo muffins. Let muffins cool in pans, and then remove.
Recipe submitted by Jean, St. Cloud, MN
Published on August 31, 2008