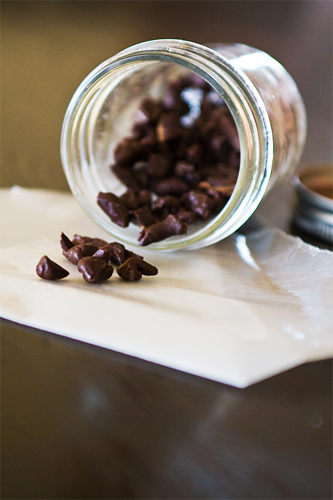 Gluten Free Chocolate Chips
photo by recipe author
Servings: about 2 cups chips
Preparation Time: 30 minutes + freezing time
3 tablespoons coconut oil (2 melted, 1 mostly melted)
2 tablespoons gluten-free cocoa powder + 3 tablespoons
1 teaspoon vanilla
2 tablespoons honey
1 tablespoon tapioca starch
1. Add all ingredients to high-power blender, except 3 tablespoons cocoa.
2. Mix on medium for about 20 seconds, then increase to high for about 10 seconds. Since there isn't much in the blender, it will look like it's not really mixing, but just keep it going.
3. Add the remaining 3 TB of cocoa powder, and blend on high for about 20 seconds. The mixture should be tacky and sticky, and almost like caramel. Because the blender heats up the coconut oil, it will be melting a little in the bottom of the blender. That's normal, and it begins to separate from the mixture.
Roll out mixture in between two sheets of wax paper. Transfer to a cookie sheet, and freeze for about 30 minutes. After that, it will be a little more set, and cut into small squares/bits with a knife.
Store in the freezer to keep firm, or use immediately in a delicious coconut cookie!
Recipe submitted by Elisabeth, Monee, IL
Published on April 4, 2011