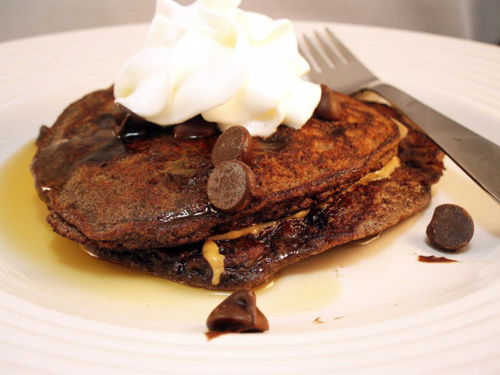 Gluten Free Chocolate Chocolate Chip Pancakes
Photo by recipe author
Servings: 4
Preparation Time: 20 minutes
Beat egg whites until soft peaks form. Separately, beat egg yolks until foamy. Fold together, along with melted butter, milk, honey, salt, and vanilla. Whisk in coconut flour, cocoa powder and baking powder. Stir in chocolate chips.
Heat a pan coated with needed amount of palm shortening or coconut oil. Spoon 1/4 cup of batter onto the pan. Allow to cook for 3 minutes or so and carefully flip. Allow to cook for 2-3 minutes more or until cooked through. Repeat with remaining batter.
Serve with toppings such as peanut butter, maple syrup, and whipped cream, and top with additional chocolate chips. Makes about 9 pancakes.
Recipe submitted by Alta, Dallas, TX
Published on December 26, 2009