These cookies are naturally gluten free. Think flourless chocolate cake in a meringue cookie form.
Now that I've gotten your attention, you've probably already scrolled down and taken a look at the recipe, and are perhaps surprised by the amount of sugar. But before you leave, let me assure you that that is the correct amount of sugar.
Think about it.
We're using pure, unsweetened, cocoa in this recipe, and over half a cup at that! That's a lot of concentrated, bitter stuff you know. The amount of powdered sugar used is just enough to make it a bittersweet type chocolate flavor, since we're not using pre-sweetened chocolate. If we were using a block of bittersweet chocolate chances are that'll be the only sweetener used, but we're not using that.
Also, keep in mind that powdered sugar will about double in volume when ground into a powder. So technically, 1 cup of granulated sugar will make about 2 cups of powdered.
Make sense?
Sure it does.
So don't try to decrease the sugar amount and expect the cookies to turn out the same. They won't. I've already tried. They came out soggy and flat as a pancake. No lie. Not to mention they were bitter. One work: Yuck.
With the correct amounts of each ingredient, these cookies bake up like a meringue on the outside with a wonderfully chewy, fudgy, rich, deep chocolate inside.
Hungry yet?
Enjoy!
Sarah
Gluten Free Chocolate Coconut Chewies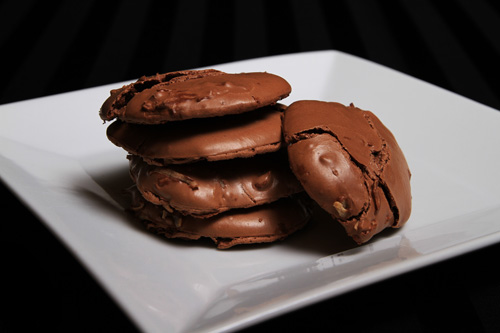 Gluten Free Chocolate Coconut Chewies
Prepared by Sarah Shilhavy, Photo by Jeremiah Shilhavy
Preheat oven to 350 degrees F. Grease cookie sheets with palm shortening or line with parchment paper.
Stir dry ingredients (except coconut) together in a stand mixer fitted with a whisk attachment.
On low speed and add egg whites one at a time. Add vanilla extract and turn mixer on high for about 2 minutes, until the batter has thickened.
Gently and briefly fold the coconut in. Don't mix it in completely.
Drop batter (about the side of a rounded measuring tablespoon) onto a prepared cookie sheet. Bake for 13-15 minutes. Cookie should be puffed and cracked. You can let the cookies cool on the cookie sheet or remove them and let cool on a wire rack.
Recipe courtesy Sarah Shilhavy
Published on January 30, 2010