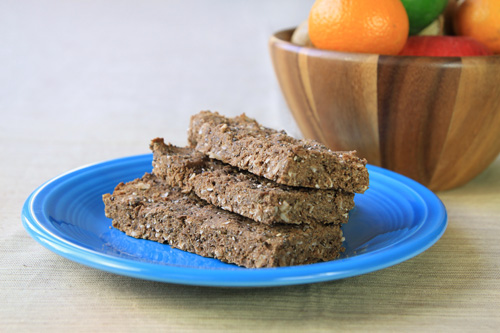 Gluten Free Chocolate Coconut Protein Bars
Prepared by Sarah Shilhavy, Photo by Jeremiah Shilhavy
I recently made these Chocolate Coconut Protein Bars, and they were pretty good! The triple amount of coconut provides the energy element, and the protein powder gives you the protein. It's the best of both worlds; energy and protein rolled into one bar. Why make both a protein and energy bar when you can have them both in one?
The bars were pretty delicate. If you want them moister you could add another egg or more oil if you wanted a higher oil serving. Either way, this recipe is pretty forgiving so feel free to play around with it a bit until you get the desired texture and results. I made a half batch and pressed it into a greased square glass pan and then cut it into bars. That way it comes out looking more like a bar instead of a cookie or something.
The bars are very filling; you can only eat so much. The chia seeds expand in your stomach and give you that "full" feeling pretty quickly, which is a good thing.
Be sure to check the recipe out, and comment if you have any questions or comments of your own.
Enjoy everyone!
Sarah
Chocolate Coconut Gluten Free Protein Bar
Preheat oven to 375. Grease cookie sheet(s) with extra coconut oil.
Melt oil if needed and in a large bowl stir in remaining ingredients with the oil until well blended. Place spoon sized mounds unto prepared cookie sheets and pat down slightly into bars.
Bake in preheated oven for 14-15 minutes. Don't overcook.
Recipe submitted by Virginia, Circle, MT
Published on October 29, 2009