It's that time of the year again. Well seasoned and not-so-well seasoned cooks are pulling out (maybe even dusting) their cookie sheets and getting ready to bake up a storm of cookies.
If you're one of them, Chocolate Crinkles must be on your list of to-bakes. Seriously. Their soft, fudgy, chocolate-y, rolled-in-powdered-sugar goodness is just too hard to pass up.
Watch the video here:
Now that wasn't too hard was it? And aren't they pretty? It looks like snow.
These cookies are both gluten and dairy free, but they are not limited to those who are gluten and dairy intolerant. They're really yummy, anyone will enjoy them.
Remember to adjust the bake time on these cookies depending on how large you roll the dough. If they're smaller then 1 inch, start out at 8 minutes. You want them to be slightly under-baked when you take them out so they can finish cooking all the way while sitting on the cookie sheet. So keep your greedy little fingers to yourself and let them cool (if that's even possible).
Enjoy everyone!
Sarah:)
Gluten Free Chocolate Crinkles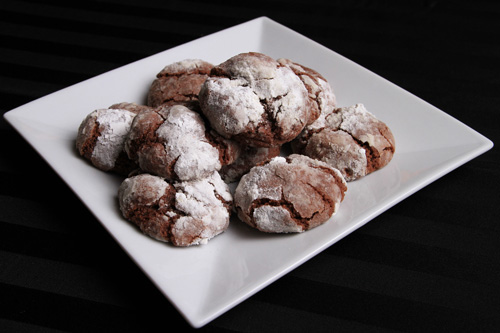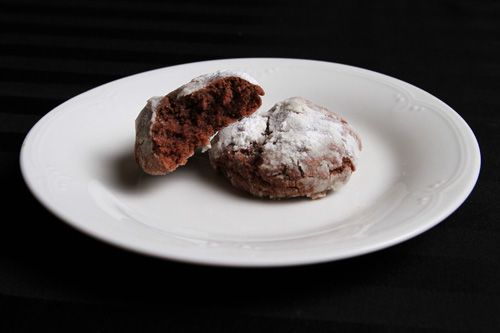 Gluten Free Chocolate Crinkles Cookies
Prepared by Sarah Shilhavy, Photo by Jeremiah Shilhavy
Servings: yields 3 dozen cookies
Preparation Time: 10 minutes plus chilling time
4 oz bittersweet chocolate, melted
1/2 cup melted coconut oil
1 cup sugar
3 eggs, at room temperature
2 teaspoons vanilla extract
2 cups gluten free flour mix*
1/2 teaspoon xanthan gum
1/4 teaspoon salt
1 teaspoon baking powder
Powdered sugar
Transfer melted chocolate to a medium sized bowl. Whisk in oil and sugar. Mix in eggs, one at a time. Whisk the vanilla in. Mixture should be thick.
Add the flour mix, xanthan gum, salt and baking powder. Mix everything together (should be the consistency of brownie batter). Refrigerate for an hour or more, until the mixture has firmed up.
Preheat oven to 350 degrees F.
Place powdered sugar into a small bowl. Roll dough into small balls (dough should be stiff) and roll in powdered sugar. Place 2 inches apart on a cookie sheet greased with palm shortening, and bake for 10-12 minutes (just until tops feel slightly firm). Let cool on sheet for 3 minutes before removing to wire rack.
*Gluten Free Flour Mix:
Makes 3 cups
Mix all ingredients together and use as directed.
Recipe by Sarah Shilhavy
Published on December 7, 2010