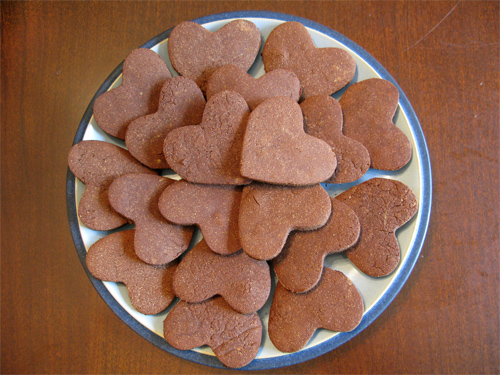 Gluten-free Chocolate Cut out Cookies Recipe
photo by recipe author
Servings: 30
Preparation Time: 20-25 minutes
1. Melt coconut oil and chocolate together over very low heat. Let cool slightly.
2. Mix honey, vanilla and eggs. Add chocolate mixture, stirring well to make sure you don't scramble the eggs.
3. Add in coconut flour and stir very well. Place dough in fridge to harden, at least 1 hour.
4. Preheat oven to 350F. Line a baking sheet (or two) with parchment paper.
5. Roll dough out between two sheets of parchment paper to 1/4″ thick. Use your favorite cookie cutter to cut out shapes. Place relatively close together on the cookie sheet. Ball leftover dough together and roll out again. Keep going until all the dough is used up.
6. Bake for 12 minutes (adjust depending on the size of your cookies). Let cool on cookie sheet or a wire rack.
Recipe submitted by Sarah, Marietta, GA
Published on May 11, 2012