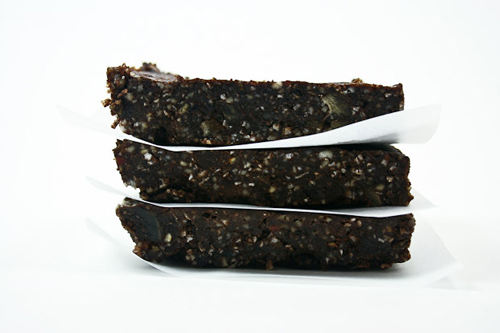 Gluten Free Chocolate Energy Bars
photo by recipe author
Servings: 1 9×9 pan
Preparation Time: 1 hour 5 minutes (soaking time included)
Soak the nuts and dates in warm water for about an hour. Remove the pits from the dates.
In a food processor, blend the nuts, coconut, cocoa, and coffee together. Add the pitted dates, coconut oil, vanilla, sweetener, and water and pulse until combined. The dough will be sticky.
Grease a 9×9 glass dish with coconut oil and then dump the mixture in there. Using a spatula (or your fingers), press the dough into the dish until it is packed firmly. Chill in the fridge or freezer for a couple hours before cutting.
Recipe submitted by Jessica, Denver, CO
Published on December 5, 2011