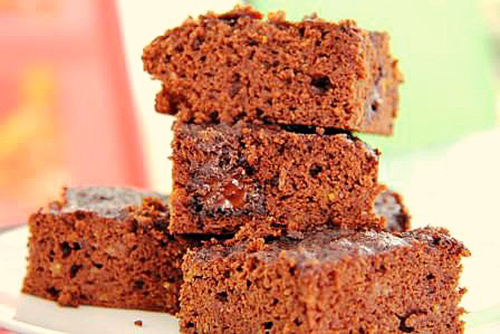 Gluten Free Chocolate Orange Brownies
photo by recipe author
Servings: 9
Preparation Time: 1 hour and 10 minutes
Slice the orange, remove seeds and place in a saucepan and cover with water. Bring to boil, then simmer for 1 hour with a lid on. Remove the orange from the pan and let cool. Once cool, place in a food processor or blender and blitz until smooth.
Preheat the oven to 350° F.
Line and grease a baking tin (I used an 8 inch square tin).
In a bowl, place the melted butter, vanilla, eggs and mix well. Add the orange mixture, combine until smooth. Add the dry ingredients, one at a time into the orange mixture, combine well.
Pour the mixture into the baking tin, place in the oven and bake for 25 minutes. Remove from oven, allow to cool then slice and serve. (Optional: Serve each brownie with a slice of fresh orange.)
Angela from St. George, Barbados won $50 for this recipe and photo! Submit your coconut recipes and photos here!
Published on May 5, 2016