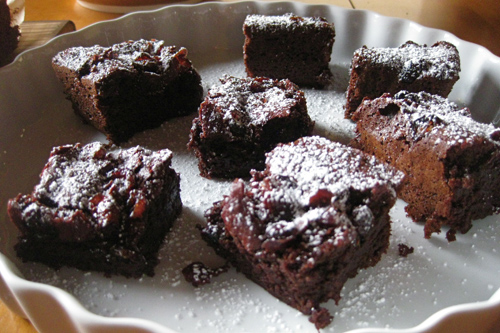 Gluten Free Christmas Brownies
photo by recipe author
Servings: 16-20
Preparation Time: 1 hour
Preheat oven to 350° F.
Coat an 8-inch square pan with a thin coat of butter or coconut oil.
In a bowl over a pot of simmering water, melt the chocolate chips, butter, and coconut oil together. Remove from heat, whisk to combine.
In a small bowl combine the sugar, ground almonds, coconut flour, cocoa powder, baking powder, and cinnamon.
In a food processor (9-cup minimum) puree the cooked beet. Scrape down the sides and add the melted chocolate. Blend, scrape down, and add the eggs. Blend, scrape down, and add the dry ingredients. When batter is smooth, pour and scrape into the prepared pan. Sprinkle the dried cranberries over the top.
Bake for 35-40 minutes until a toothpick comes out clean and sides are pulling away slightly from the pan. Let cool before cutting. Sprinkle with powdered sugar, if desired.
Karen from Quincy, CA won $50 for this recipe and photo! Submit your coconut recipes and photos here!
Published on December 21, 2015