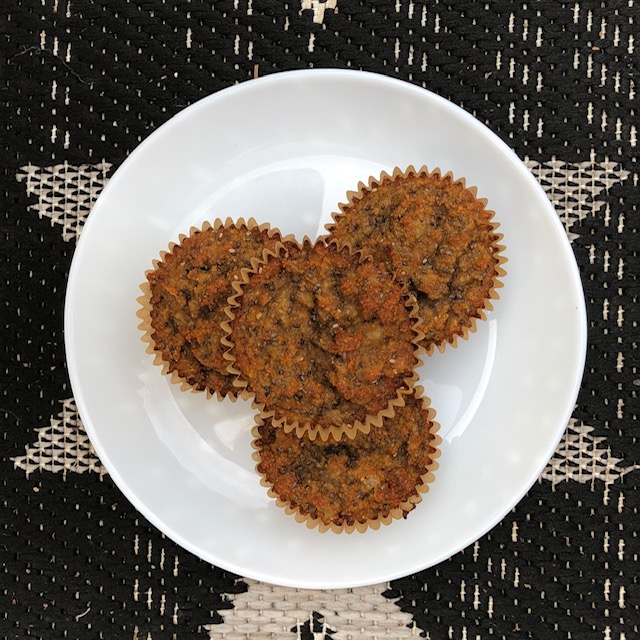 Gluten-Free Cinnamon Chia Banana Muffins

Servings: 12
Preparation Time: 30 min total

Ingredients:
1/2 cups coconut flour 
2 tablespoons chia seeds 
2 teaspoons ground cinnamon 
1 teaspoon baking powder 
1 teaspoon baking soda 
1/2 teaspoon Himalayan salt 
2 tablespoons collagen powder 
3 very ripe bananas 
2 eggs 
1/4 cup honey 
2 tablespoons Gold Label or Pure Coconut oil*
1 teaspoon vanilla extract 
1/4-1/3 cup shredded coconut and/or chopped walnuts or pecans (optional)

Directions:
 
Preheat oven to 350° 

Line a muffin tin with baking cups. 

Mix coconut flour, chia seeds, cinnamon, baking powder, baking soda, salt, and collagen powder together in a bowl. 

Mash bananas thoroughly and beat together with eggs, honey,vanilla and coconut oil*. 

Combine wet and dry ingredients and divide evenly among baking cups. 

Bake for approximately 16-20 minutes, until they look set and a toothpick comes out clean. 

Allow to cool slightly and serve warm with grass fed butter. 

Keep well in an airtight container in the fridge, or freeze extras for later. 

Great for school lunches! So delicious that you'll need to make a bunch to have any extra though! :-)

*Make sure your ingredients are room tempurature, add your coconut oil last, and combine well to avoid having your coconut oil solidifying. 

**Gold Label Coconut Oil will give you a robust punch of a coconut flavor, whereas Pure Coconut Oil will be tasteless. Choose and enjoy!

Lydia Bryant from Salem, Virginia won $50 for this recipe and photo! Submit your recipes and photos here!

Published on April 2, 2019