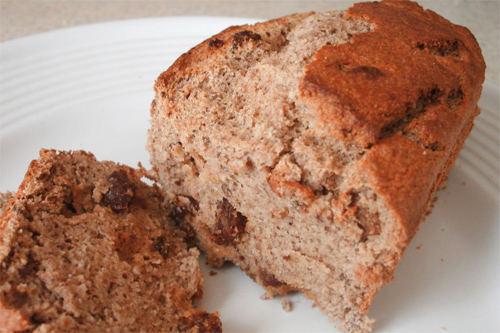 Gluten Free Cinnamon Raisin Bread
photo by recipe author
Servings: 4
Preparation Time: 15 minutes
1/4 cup coconut flour
3 tablespoons flax meal
2 tablespoons garbanzo bean flour
1 tablespoon quinoa flour
1 teaspoon baking powder, aluminum free
1 teaspoon ground cinnamon
1/4 teaspoon Himalayan salt
1/4 teaspoon stevia extract powder
2 tablespoons honey
1/3 cup raisins
2 eggs
1 egg white
2 tablespoons melted butter or coconut oil (can be left out)
1/2 cup almond milk
Sift the flours, baking powder, cinnamon and stevia together in a medium bowl. Mix in the salt and honey.
In another larger bowl, beat eggs and slowly add the almond milk. Stir in the melted oil or butter. Add the flour mixture while mixing. Blend well with an electric mixer to make a smooth and pourable batter. Stir in raisins.
In a greased 4x3x2″ loaf pan, pour batter evenly. Bake on 400 degrees F for around an hour, or until a fork inserted in the center comes out clean.
Cut into 6-8 small slices.
Recipe submitted by Brandon, Houston, TX
Published on March 11, 2011