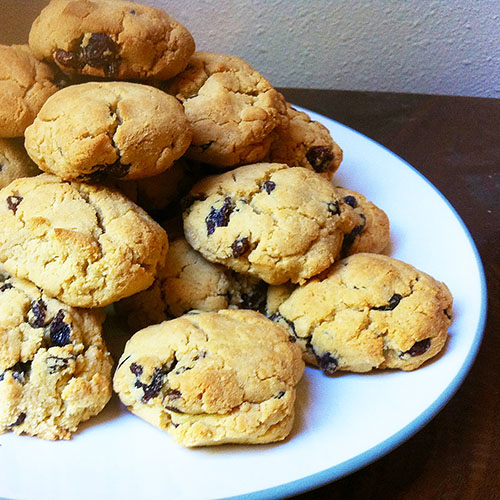 Gluten Free Cinnamon Raisin Coconut Cookies
photo by recipe author
Servings: 30
Preparation Time: 10 minutes
1 1/3 cup coconut flour, sifted
2/3 cup arrowroot flour
1 teaspoon salt
1 teaspoon baking powder
1 teaspoon baking soda
2/3 cup coconut oil, melted
1/2 cup coconut cream concentrate, melted
1/2 cup honey
6 pastured eggs
4 teaspoons vanilla extract
1 teaspoon apple cider vinegar
8 drops cinnamon essential oil or 2 teaspoons ground cinnamon
3/4 cup raisins
Preheat oven to 350° F.
In a large bowl combine coconut flour, arrowroot flour, salt, baking powder, and baking soda (and dried cinnamon if using). Stir thoroughly.
In a medium bowl combine melted coconut oil and coconut cream concentrate. Add honey, eggs, vanilla extract, apple cider vinegar (and cinnamon essential oils if using those). Mix thoroughly.
Slowly add wet ingredients to dried and mix thoroughly. Add raisins and stir.
Form two tablespoons full of dough into a ball and press down gently on a baking sheet until you have approximately 30 cookies. Bake for 10 minutes or until golden brown on top. Allow to cool before serving.
Jacquelyn from Eugene, OR won $50 for this recipe and photo! Submit your recipes here!
Published on July 27, 2016