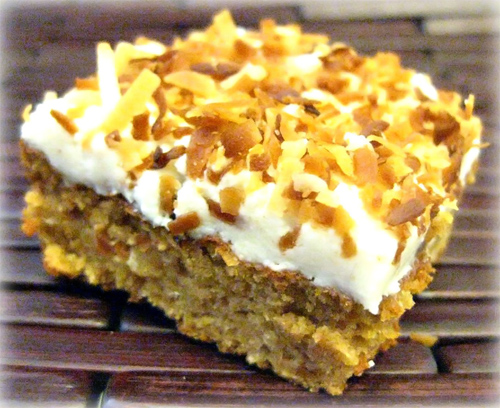 Gluten Free Coconut Cake Recipe
photo by recipe author
Servings: 12
Preparation Time: 15-20 minutes
5 large egg whites, at room temperature
3/4 cup of coconut cream (this is the thick cream on top of coconut milk)*
1 large egg, at room temperature
1 teaspoon coconut extract
1 teaspoon vanilla extract
3/4 cup + 2 tablespoons coconut flour
1 1/2 cup whole sugar
2 tablespoons baking powder
3/4 teaspoon salt
10 tablespoons butter (1 1/4 sticks) or coconut oil, cut into 10 pieces and softened
1/2 cup shredded coconut
1. Preheat oven to 325 degrees. Whisk egg whites, coconut cream, whole egg, and extracts together in a large bowl until combined. Set aside.
2. In a separate bowl mix coconut flour, whole cane sugar, baking powder and salt together.
3. Using an electric mixer, combing flour mixture with butter pieces or coconut oil, one tablespoon at a time. Add 1 cup of egg mixture, increase the speed to medium-high, and beat until light and semi fluffy. Add the remaining egg mixture in a steady stream and continue to beat until the batter is combined. Mix in shredded coconut.
4. Pour batter into a 9×13 pan. Bake for 35-40 minutes or until a toothpick inserted into the center of the cake comes out with a few crumbs attached. The cake will be very golden brown. Let cool before frosting.
5. Frost cooled cake. Top with toasted coconut and serve.
* For the freshest coconut milk make homemade coconut milk. (See video at this link.)
Recipe submitted by Philip, Eugene, OR
Published on October 6, 2012