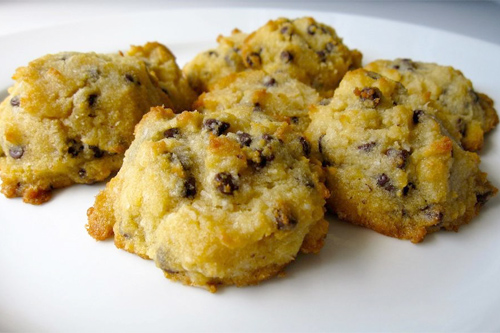 Gluten Free Coconut Chocolate Chip Cookies
photo by recipe author
Servings: 9, serving size 1 cookie
Preparation Time: 5 minutes
Recipe: Preheat oven to 350 degrees F. Line a cookie sheet with parchment paper.
Combine coconut flour, salt, sugar, baking soda, shredded coconut in a large bowl and stir well. In a smaller bowl melt coconut oil and allow to cool. Add eggs and mix well with a whisk.
Combine your dry and wet ingredients and mix together until there are no more lumps. Allow to sit for several minutes. Fold in chocolate chips.
Scoop rounded spoonfuls onto the baking sheets. Bake for 12-14 minutes.
Recipe submitted by Halle, Menomonee Falls, WI
Published on August 26, 2011