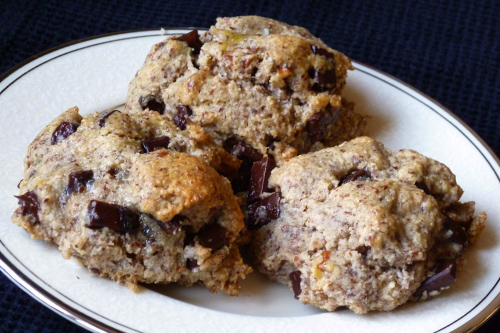 Gluten Free Coconut Chocolate Chunk Scones
photo by recipe author
Servings: 16
Preparation Time: 15 minutes
Preheat oven to 350 degrees F.
Line a large baking sheet with parchment paper.
In a large bowl, combine almond meal, salt and baking soda. Whisk together sugar, eggs and coconut oil in a smaller bowl.
Stir the wet ingredients into the dry ingredients until well combined. Then fold in remaining ingredients.
Drop the batter in scant 1/4 cup portions onto the baking sheet. Brush the tops with cream or egg wash if desired.
Bake 14-17 minutes until golden brown, or toothpick inserted in the center of a scone comes out clean. Cool for 20-30 minutes before serving.
Enjoy!
Recipe submitted by Carol, Libertyville, IL
*To make your own almond meal, grind almonds just until a moist meal consistency is reached. Be careful not to over-blend.
Published on August 8, 2011