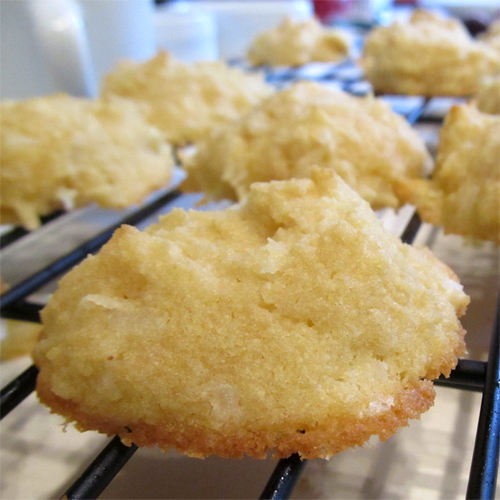 Gluten Free Coconut Cookies
photo by recipe author
Servings: 24 cookies
Preparation Time: 5-10 minutes
Preheat oven to 375 degrees and butter two baking sheets.
In the bowl of a stand mixer fitted with a paddle attachment, or using a hand mixer, cream the butter. Add the sugar and continue mixing until light and fluffy. Add the eggs and vanilla and mix thoroughly.
In a small mixing bowl, use a whisk to combine the coconut flour, salt and baking soda; whisk vigorously to break up any clumps of flour. Add the dry ingredients to the wet mixture, then stir in the shredded coconut.
Drop by tablespoonfuls onto the greased cookie sheet, one inch apart; bake 8-10 minutes, until the bottoms are golden. Use a spatula to transfer the cookies to a rack to cool.
Recipe submitted by Jennifer, Gainesville, FL
Published on January 9, 2012