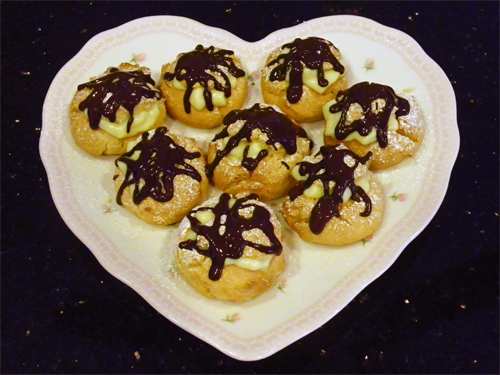 Gluten Free Coconut Cream Puffs
photo by recipe author
Servings: 12-24 servings
Preparation Time: 1 hour
Basic Puff Shell:
1 cup water
1/2 cup organic salted butter
3/4 cup sweet rice flour
1/2 cup organic brown rice flour
1/2 cup coconut flour
3 large organic eggs (OR 4 medium eggs)
Homemade custard (see recipe below)
1 1/2 cups organic semi-sweet chocolate pieces, melted
Organic powdered sugar, to garnish
Homemade Coconut Custard:
Puff Shells:
Preheat oven to 400 degrees F. Prepare baking sheet with parchment paper or baking mat.
In a medium saucepan, heat water and butter to rolling boil. Stir in flour – beating well until it pulls away from the pan and forms a ball, about 1-2 minutes; then add eggs, one at a time beating well after each addition. Fully incorporate mixture until batter is smooth.
Drop by heaping tablespoon onto greased baking sheet or silicone baking mat lined pan. Batter should be fairly stiff, so that when you scoop it onto the baking sheet, it stays firm and doesn't spread out. If it is too runny, add additional sweet rice flour in small amounts until batter holds its shape on the baking pan.
Bake 30-40 minutes at 400 degrees F. or until golden and dry.
Remove from oven and cool until you are able to handle them. Then cut off top of each puff and scoop out any excess soft dough from inside, if necessary, to form a shell for the cream filling. Replace top with each puff and allow to cool completely.
Coconut Custard:
In a heavy saucepan over medium-low heat, bring sugar, cornstarch, egg yolks, and coconut milk (or Coconut Cream Concentrate plus 2-3/4 cups water) to a boil, whisking constantly until thickened (approx. 15-20 minutes), careful not to scorch mixture on bottom of pan. Remove from heat. Stir in butter and vanilla. Place in a container with a tight sealing lid in refrigerator to cool. Chill 2 hours until set.
Assembly: Fill puffs using a pastry bag or spoon carefully into cream puff shells, then replace top of puff. Sprinkle with powdered sugar to garnish and drizzle with melted chocolate, if desired.
Melt chocolate pieces in a glass/stainless steel boil set over a small saucepan with simmering (not boiling) water. Drizzle puffs with melted chocolate. Serve or store in an airtight container in the refrigerator for up to 3 days.
Recipe submitted by Deanne, Glendale, AZ
* For the freshest coconut milk make homemade coconut milk. (See video at this link.)
Published on February 14, 2011