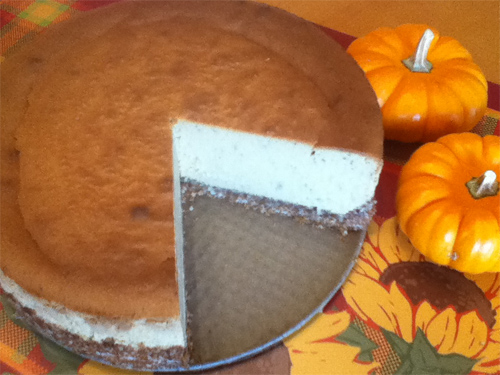 Gluten Free Coconut Cream Pumpkin Cheesecake Recipe
photo by recipe author
Servings: 12
Preparation Time: 30- 40 minutes
Crust:,
1 tablespoon coconut oil
2 tablespoons coconut flour
1 cup almonds or Brazil nuts (for a thinner crust you may wish to use only 1/2 cup of nuts)
1 cup organic coconut shreds, flakes or chips
1 1/2 – 2 cups crumbled ginger snap cookies or graham crackers (I used gluten free ginger snaps for this recipe)
8 large dates (pitted)
Filling:
Crust:
Taking a 9 inch springform pan, line the bottom with parchment paper. Then very lightly grease the sides with the coconut oil; and then lightly dust the sides with the coconut flour. Add all of the crust ingredients into a blender or food processor and blend until you get a nice sticky mixture. Place all of this mixture into the bottom of the Springform pan; press into the bottom of the pan and 1 inch up the sides of the pan. Set aside until filling is ready.
Filling:
Preheat oven to 350 degrees F.
In a large mixing bowl, add the cream cheese and sugar or honey and beat together with an electric mixer for 3 minutes or until fluffy. Pour the coconut cream concentrate into a large saucepan on a low temp setting and then immediately add the pumpkin and mix together until it is all one color. Be sure to stir regularly while this is warming for about 3-4 minutes and then add to the cream cheese mixture. Beat in the eggs one at a time, then add the cinnamon, ginger, nutmeg, cloves, salt and vanilla and beat until it is all one color again. Add the flour and mix well for 1-2 more minutes.
Take the springform pan and wrap the sides with foil about 2 inches up each side, then set the pan into a small roasting pan or cookie sheet with high edges. Pour your filling into the pan with the crust and place in the preheated oven. Pour hot water from the teakettle about 1 inch up the sides of the springform pan. Bake until the center moves just slightly when shaken, about 70-80 minutes. Remove the cake from oven and let cool on a wire rack. After it has cooled for at least 2 hours, place it in the refrigerator for 3-4 hours before carefully removing the outer ring; serve and enjoy.
Recipe submitted by Donny, San Diego, CA
Published on December 3, 2012