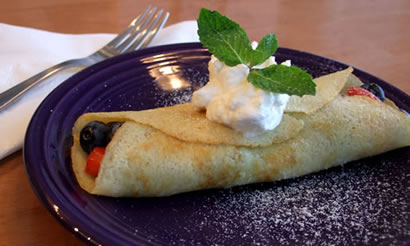 Gluten-free Coconut Flour Berry Crepes
Photo by recipe author
These berry crepes make a healthy breakfast, brunch or dessert. They are super yummy…and good for you too!
Servings: 6
Preparation time: 12 minutes
2 eggs
2 tablespoons coconut oil, melted
Stevia liquid drops, to taste (I use about 10 drops)
1/4 teaspoon vanilla extract (can substitute almond extract)
1/8 teaspoon salt
2 tablespoons coconut flour, sifted
small pinch of nutmeg
pinch of cinnamon
1/3 cup whole milk (can substitute regular coconut milk*)
1-1/2 cups blueberries (or other berries)
Whipped cream
In a medium bowl with a wire whisk, beat together the eggs, oil, stevia, vanilla, and salt. Mix in sifted coconut flour, nutmeg and cinnamon; stir in milk.
Heat an 8-inch skillet over medium heat. When hot, melt a tiny pat of butter, coconut oil or palm shortening in the pan. Pour 1/8 cup of batter in the skillet and swirl around in pan until a thin layer of batter covers the bottom. The crepe should be about 6-inches in diameter.
Cook 1-2 minutes, or until batter is bubbly and cooked around the edges. Flip the crepe and cook the other side for 1-2 minutes more, or until done.
Fill the crepes with the berries, top with a little whipped cream (see recipe below), and if you wish a light dusting of coconut flour.
Makes about 6 crepes.
Homemade Whipped Cream
In a medium bowl (stainless-steel is preferable), whip heavy cream until stiff peaks are just about to form. (You can do this by hand with a wire whisk, or with an electric mixer; just make sure the beater and bowl are clean and cold for best results.) Beat in vanilla and sweetener until peaks form. Do not over-beat or the cream will become lumpy (and you will actually have butter).
* For coconut milk make homemade coconut milk or use 1 teaspoon of coconut cream concentrate for every 6-8 oz of water for coconut cream milk. Mix together and use as directed.
Recipe submitted by Shannon, Fort Worth, TX
Published on October 19, 2009