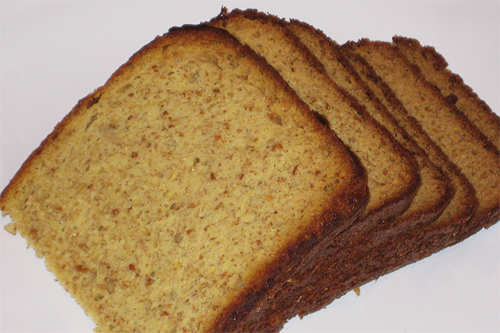 Gluten Free Coconut Flour Flax Bread
photo by recipe author
Servings: 8-10
Preparation Time: 10 minutes
1. Preheat oven to 325 degrees. Grease a small loaf pan (73/4″ L × 41/2″ W × 3″ H).
2. Mix all the dry ingredients together.
3. Combine all the wet ingredients.
4. Add the dry ingredients to the wet and beat well. Batter will be thick.
5. Pour into loaf pan and bake for 40 minutes or until toothpick comes out clean.
6. Cool completely before slicing.
Note: For moister bread, the water in the recipe can be replaced with yogurt.
Recipe submitted by Carrol, Huntington Beach, CA
Published on September 13, 2010